The daughter of a friend of mine, A'ishah Mokrani, has painted her interpretation of Picasso's famous Guernica inspired by recent city and federal police action in downtown Portland. She calls it Portland's Guernica.
Mokrani's work is acrylic on canvas, 20 x 16 inches, and follows a long line of artists inspired by Picasso's masterpiece.
Picasso's Guernica is one of his best known works. The massive 11'5″ x 25'6″ (3.49m x 7.76m) black and white painting shows the chaos and horror of war. Picasso painted it in response to the 1937 bombing of the Basque town of Guernica in northern Spain during the Spanish Civil War. Rebel Nationalist faction leader Francisco Franco requested the bombing, which was carried out by his allies, Nazi Germany and Fascist Italy. Franco later ruled Spain from 1939-1975 as a dictator.
Living in Paris under German occupation during WWII, Picasso saw news reports of the bombing of Guernica and was horrified. He worked on the painting for 35 days and completed it on June 4, 1937. A Nazi Officer allegedly saw a photograph of Guernica and asked Picasso, "Did you do that?" to which Picasso replied, "No, you did."
Paintings Inspired by Guernica
Guernica has inspired works by other artists for decades.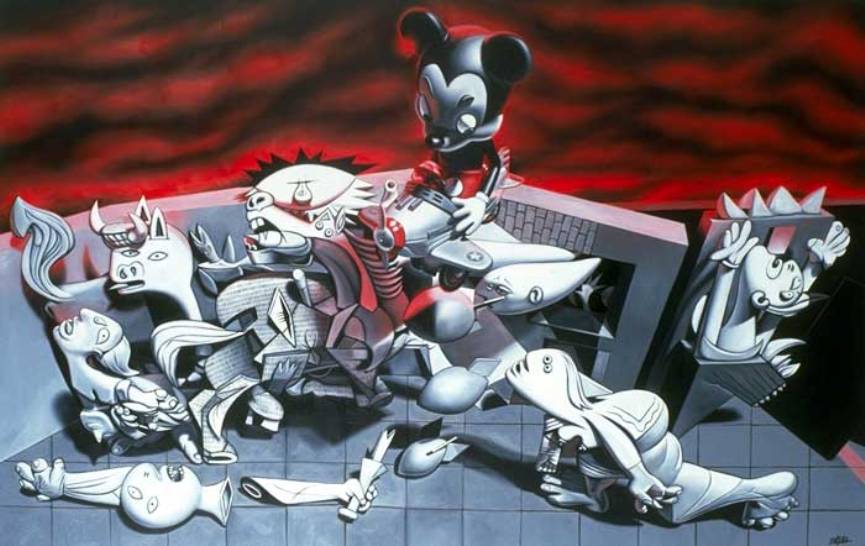 Contemporary street artist Ron English created a series of paintings based on the work
recently displayed at Allouche Gallery in New York City.
Spanish contemporary artist, Mercedes Lagunas painted her interpretation, Pop Guernica (Lux) just last year.
Spaniard Lluís Barba created Guernica, 2013 which is displayed in the Cynthia Corbett Gallery in London.
Portland's Guernica by A'ishah Mokrani
Mokrani is a Portland artist, a Berber Muslim, and has personal experienced living under authoritarian rule in Algeria. Her grandfather and great-uncle both fought against French colonial rule in the Algerian War of Independence. She left Algeria just as the peaceful rebellion (also known as the Rebellion of Smiles and the Hirak Movement) against the authoritarian, military-backed government was building.
She views the struggle and protests in Portland similar to those for equality and freedom worldwide. Many Algerian Americans in France have joined protests there in support of Black Lives Matter. As in the U.S., they too face oppression and racism.
The artist perceives parallels between experiences of American Muslims and the greater BIPOC community. She stands with and supports Black Lives Matter and the BIPOC community's struggle for equality.
She hopes her work will serve as a message to all about the dangers of authoritarianism and divisiveness. She supports and encourages continued peaceful protests and unity across all groups for freedom, equality, justice, and peace.
Long live the hirak!