We are accustomed to seeing a shift from black and white photographs and movies to color occuring in the 1950s. The occasional color photograph from WWII often can be jarring.
How amazing, then, to see color photographs and movies from a century ago!
A friend just sent me a film from 1902 of an elevated train making its way through Wuppertal, a German town just east of Düsseldorf. The Museum of Modern Art used artificial intelligence to clean up the original footage, add color, and create a smooth 60 frames per second movie.
You can read about the process of creating this new video here.
The resulting movie is startling in its normalcy. It shows people walking along the sidewalks, shopkeepers standing outside their stores, and workmen going about their tasks.
Here is the original footage:
The film reminded me of stunning and gorgeous color photographs I'd seen taken during pre-Soviet Russia.
Unlike the Wuppertal video, which was enhanced and colorized using modern technologies, the color photographs below were captured originally in color.
Prokudin-Gorskii Photographs of Pre-Soviet Russia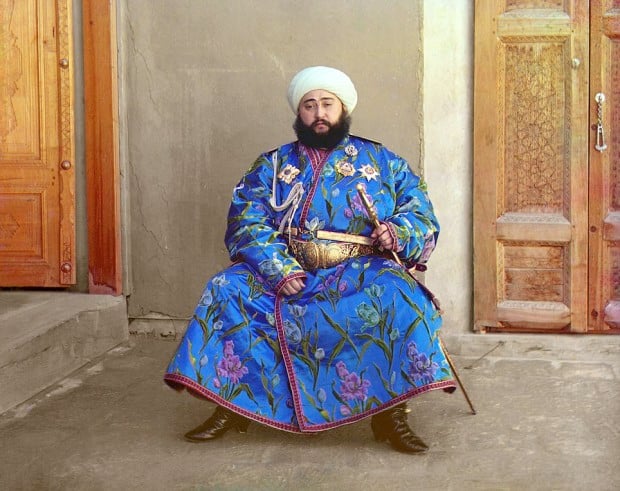 Between 1905-1914, Russian chemist and engineer Sergei Mikhailovich Prokudin-Gorskii (1863-1944) took photographs all over Russia. He pioneered a technology for taking some of the world's first color photographs by exposing three separate chemically coated glass plates.
In 1995, modern technology digitized and combined these ancient negatives to produce amazing color photographs. The colors are so vibrant, the only giveaway that these pictures are ancient is by the clothing worn by the people in the photographs.
Click this link to see more of these amazing photographs.
The Lumière Brothers' Color Photographs
Two French brothers, Auguste and Louis Lumière, took their own color photographs. Here are a few from their vast portfolio of color photographs taken from 1907 – 1927.
There are over 100 color images taken by the brothers Lumière. You can see them by clicking here.
The arduous and expensive technique for taking color photographs used by Prokudin-Gorskii and the Lumière brothers became obsolete with the invention of Kodachrome film in 1935. Kodachrome film was then overtaken by digital photography. The last year Kodachrome was manufactured was 2009.